Hello. This is Heather's bike. Not the big burly teal one; I'm the slick Cannondale at the bottom of the picture. Shiny. That's what people used to say when they saw me coming. Slick. That's another thing they used to say.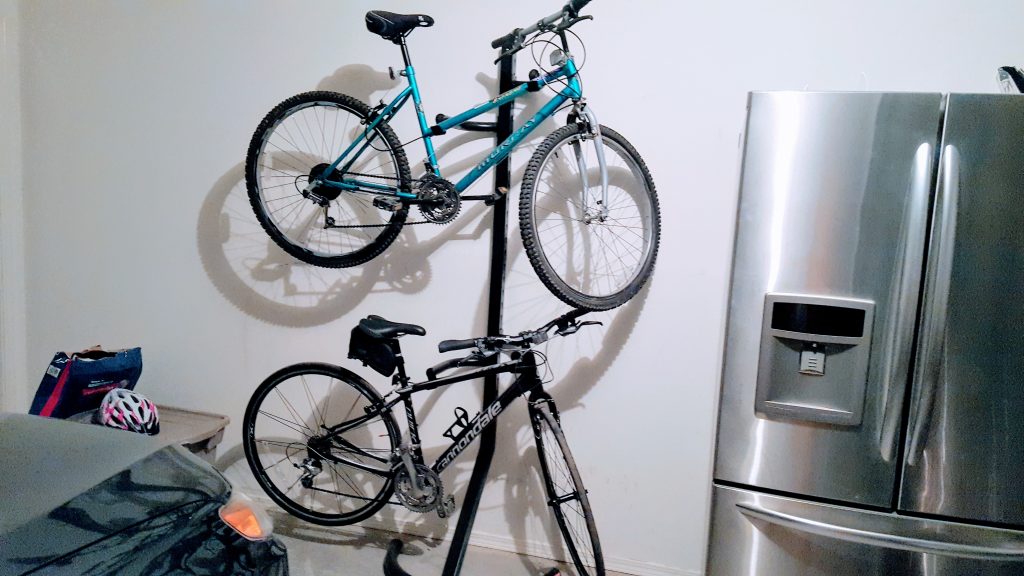 If you've been reading this blog for a while, you know that Heather used to take me out of the garage fairly often. She wrote about the things we'd see on the trail or how she nearly broke my spokes when she tried to learn to ride with clipless pedals. She even rode me in a few sprint triathlons. I remember cruising down that hill in Rio Rancho…
Then the summer of 2o15 happened, and she quit riding me. I heard her tell people that no matter how much she stretched, her body kept getting stiffer. Then her hands and fingers swelled up, and it was just a quick hop, skip, and a jump (or a stumble, droop, and a nap) into her new life with an autoimmune disease.
As she and her rheumatologist experimented with medications, she had to dial everything back. I, her fancy new bike,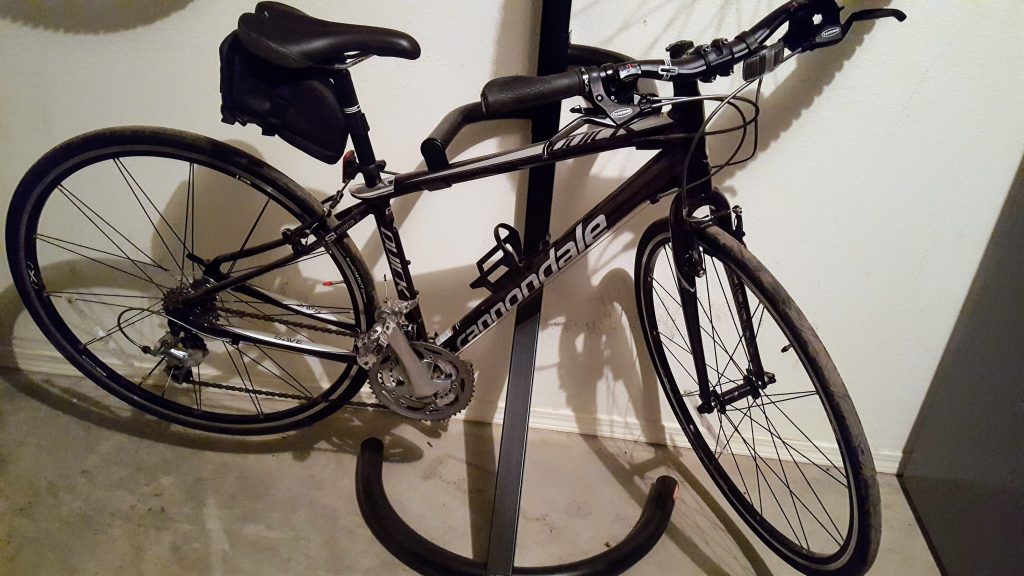 spent my days leaning against the wall in the garage. Even when she got settled into a good treatment plan, she didn't want to hang out with me. I'd see her leave the house with a gym bag and come home with wet hair. I didn't know if I'd ever get out of the garage again.
Then, one day she opened the garage door and the wind felt fresh around my tires. She walked up to me and squeezed the brakes; it was as though she was trying to see if her fingers were still working. I tried to encourage her by helping a little, but there's only so much a bike can do.
Months passed. Everyone now and then she'd squeeze my brakes again, but I knew not to get my hopes up. It was as though she had stopped being a person who couldn't ride a bike and become a person who wasn't riding a bike, but she hadn't figured that out yet.
I started keeping notes in order not to drive myself crazy from the loneliness and boredom. Sure, I had Tealy-bike to keep me company, but she wasn't going on any rides either. What else are a couple of bikes going to talk about?
Anyway, I heard that I'm not the only one who had a rough  year in 2017, and the idea of Oprah running for president (what, you don't think bikes follow politics?) has gotten me hopeful again, so here's the story of how I finally made it out of the garage.
January, 2017
Yippee! She has pulled me out of the garage and into the driveway. She's got the bike pump out. WE ARE GOING FOR A RIDE! My spokes are tingling and my gears are feeling loose.
Wait, what's happening? OW!–something doesn't feel right. She's working up a sweat pumping, but the air is just whooshing around and my tires still feel all limp and saggy. I've been sitting on the cold garage floor for  years months. It looks like I've got a hernia in my back valve stem.
She half-rolls, half-drags me back into the garage and leans me against the wall. She's just going to leave me here? When the door closes, Teal Bike feels so bad for me she doesn't even gloat.
Worst of all, Heather looked tired and discouraged after all that pumping and I think her hands and wrists were aching. She went inside and called it a day.
March-ish, 2017
For two months, I was back to my bored self, leaning against the wall. Nothing to read, nothing to look at.
Then in March, my neglectful owner remembered that standing on the cold garage floor wasn't good for me. One boring Saturday she lifted me gently into the car and took me to the bike doctors. They repaired my hernia, gave me new valve stems, and pumped me full of air and confidence. They also chastised Heather. They explained  that if she hung me on a bike rack instead of leaving me on the cold floor, I'd survive the winters better.
She bought the bike rack, but I still had problems. Apparently it looked like it was going to be complicated to install, so she decided to wait for her son-in-law to visit. Teal and I rolled our pedals at her, but she didn't notice.
June, 2017
The days are long, and sunlight seeps in through the crack under the garage door. Son-in-law finally showed up, and Teal and I love our new digs! Tealy got the top bunk, which I was happy about because I don't really like heights. I also thought that the bike on the bottom was much more likely to get ridden, and (spoiler alert!) I was right.
July, 2017
Disaster. They got home from vacation. The man she lives with takes a big dog blanket out of the car and throws it on me. Out of sight out of mind.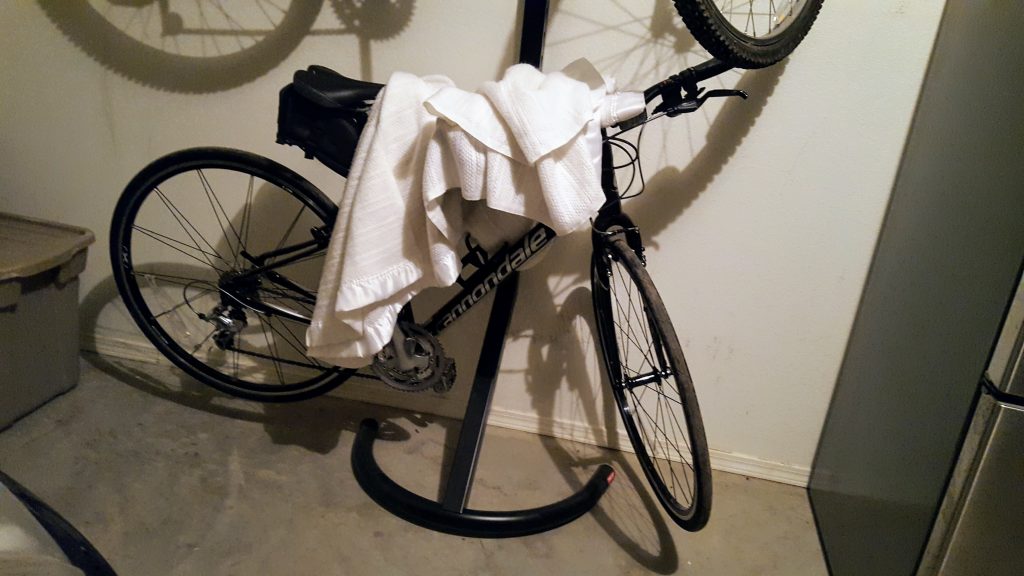 Every now and then I hear her complain to the man that the blanket he has piled on top of her bike is keeping her from riding. I'm a little skeptical, but what do I know. I've never been married.
October, 2017
It's scratchy and dark under the blanket, and I'm having trouble maintaining my self-esteem. How can a light, slick, bike like me feel good about myself when I've been reduced to living as a shelf?
Every day when she comes into the garage I concentrate the energy in my spokes and try to communicate with her telepathically. "Move the damn blanket yourself," I whisper.
November, 2017
The days are growing shorter again. Tealy's joints are drying out. I hear Heather tell a friend she has given herself a deadline. She says she has "written it down" and "told her friends" which is supposed to make a resolution stick.
Rumor has it her deadline is December 31, 2017. On December 24, I watch her line the driveway with candles and imagine us riding out between them, paparazzi cheering and snapping photos as we go.
On December 31st I stay up late, not wanting to believe she'll miss the deadline.
When I hear the fireworks at midnight, I understand why people say the holidays can be hard.
January 1, 2018
10:00 AM. The new year dawns without me noticing. I'm in a deep, dejected sleep when she appears. She rolls me out of the garage, puts some air in my tires. My tubes feel good. My valves feel good. This is it.
Then she starts rubbing her hands. She's cold. She goes inside. Damn; I hate hope.
2:00 PM. She's back. My gears sing when I notice she's wearing her bike shoes and her neon yellow jacket. She tosses me in the back of the Subaru. I'm not sick, so I don't think we're going to the hospital.
2:05 PM. Are you kidding me? I'm lying on my back, cramped up at a funny angle in the Subaru when she notices that her helmet is missing. She blames her husband for misplacing it.
2:25 PM. She finds her helmet. I hear her say, "What is it doing on a shelf in the hot water heater closet?!"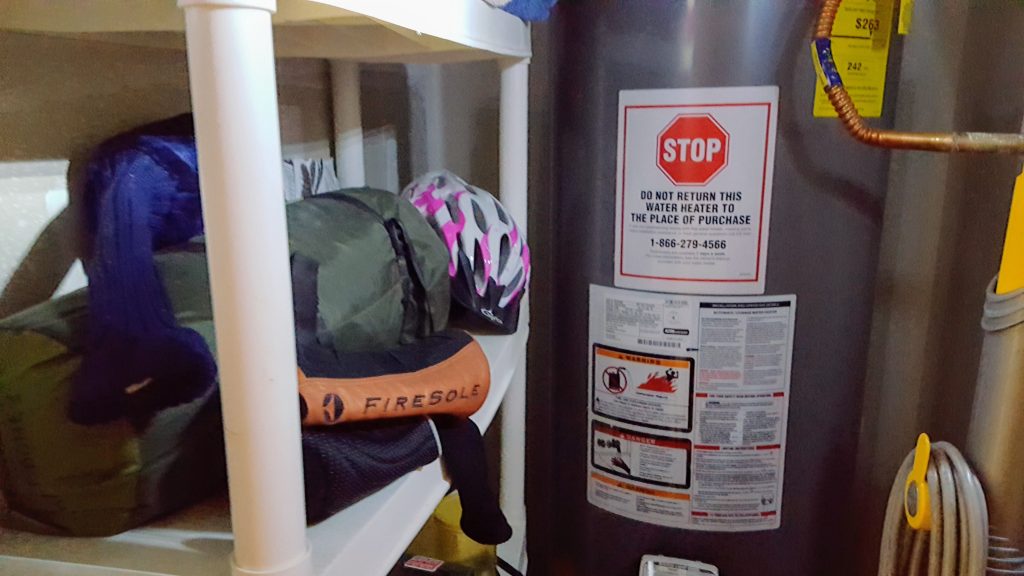 2:30 PM. She pulls her Subaru into  the gravel lot at the west end of the Montano Bridge. I'm so excited my pedals are spinning. She straps on her helmet, takes a swig from her water bottle, and swings her leg over my back.
2:49 PM: She's on the Bike!
I only have a few more things to tell you. It feels so good to be out on the trail that I'm gulping in air, shifting more smoothly than I've ever shifted, dancing around like one of those Arabian ponies we saw practicing their moves on the ditch bank last time we were out.
I can tell she's feeling it, too, and regretting all that time we spent apart. I know that because we ride too long. The mountains are on our right and the river is just over there through the cottonwoods. I can hear the cranes and geese and we're even picking up speed and passing a few people. At one point, she gets brave and clicks into my pedals. We've never been closer.
Then a whole flock of crows gathers right above her head. She laughs and takes her hands off my handlebars and for a minute we are drafting, until the crows speed up and pull away.
Later we saw them sitting all pretty in a tree like Christmas ornaments (hey, bikes can appreciate beauty) and then something got them all excited and they started flapping and squawking. We both looked around for an eagle or a coyote, but the trail kept its secrets.
4:00 pm
Back in the parking lot, she's tired and she leans me way down to get her leg over my back. Her hips are stiff and she's shaking her wrists like they might be hurting, but we're both smiling as she lifts me back into the Subaru and gives me a little pat on my seat.
So, this is Heather's bike, and that's my story. I heard it was a hard year outside of the garage, too. I just wanted to let you know, if you have been hanging on the wall in a cold garage for months on end, that the cranes are still making wide Vs over the river.
The planet is still swinging wide, making slow, graceful loops around the sun.  I'm here to tell you that those long months in the cold garage can end. Tealy says it's because hope with action gets rewarded.
I'm no philosopher. I just know that when she got back on, we both remembered how to ride.
++++++++++++++++