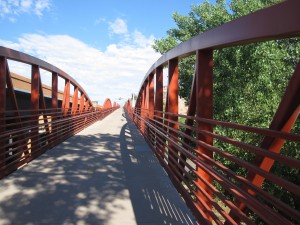 Remember how Wile E. Coyote keeps running straight ahead for a few feet after he's left the cliff edge behind? That's how I fell off a horse named Omega in 1994 and got this long scar that runs from my palm, halfway up my left forearm. I could clear the jump until the second that I realized I couldn't clear the jump; that's when Omega put his head down and I tumbled over it into the soft dirt of the arena.
That's how I come down the big human roller coaster hill on the bike trail: certain I can't do it. My friend Tammy flies ahead, working out her own downhill demons while I lag behind. The bumpy pavement surprises me. Going up, I moved slowly enough not to notice how rough it is. Coming down, though, it jars my head in my helmet, just the encouragement I need to tighten my hands and squeeze the brakes.
This fear of speed is nothing new. When I turned forty, I went skiing for only the second time in my life. My friend took off for the big-girl slopes while I signed up for a lesson. All around me, little kids in parkas bounced and hopped and swerved down the hill like an avalanche of gumballs.  I picked my way through them (by which I mean I went straight and hoped they wouldn't knock me over), intent on mastering the snowplow.
Even as a kid, I picked the slow route. There were two ways to sled-ride from the top of Marvle Valley Drive to the bottom. The first was to sally through the yards, each one connected to the next by a small hill, a mostly flat front yard, and a driveway. (Some of those driveways, like ours, were red-dog in those days, so they slowed you down nicely!) The second way was to fly right down the steep road and hope there were no cars coming down Dashwood when you reached the bottom and careened across the street into the Buckley's front yard. I don't have to tell you which route I took, do I?
Earlier this summer I thought I could think my way out of some of my fears. Here's one of the things I tried:
(A Partial List of) Things I'm Afraid Of:
Spiders in the shower
Moving (or playing music) fast
Touching dead things
Buildings/Bridges/tunnels collapsing
Car accidents
Heights
Talking politics with people I'm related to
Flying
Then I made this list.
(A Partial List of) Things I'm Not Afraid Of:
Public speaking
Taking up the violin in my forties
Leaving well-paying jobs that don't feed my heart
Signing up for a triathlon when I'm out of shape
Getting my shoes dirty
Lizards
Talking politics with people I'm not related to
I thought maybe I could figure out why I'm not afraid of the things on the second list and apply that logic to talk myself out of being afraid of the things on the first.
Then I watched my grand-daughter ride the Cliff-Hanger at Uncle Cliff's. The ride lifts you 120 feet into the air and then drops you straight down.  At nine, Aurora is terrified to speak to most people, but she'll shinny straight to the top of the rope at the gym, and she loves thrill rides. Her tiny feet dangle over the edge and she smiles her own cryptic Mona Lisa smile as she ascends into the sky and plummets down.
Where does fear come from, anyway? How come I got heights, Aurora got speaking, and my husband got water?
Just before school started, I spent a day with teenagers at a ropes course deep in the Manzano Mountains. My group of about two-dozen ninth graders was standing at the base of a tall pole capped by a tiny platform. The two girls who had volunteered to go first were suited up in harnesses and helmets. The first girl climbed straight up the pole and maneuvered easily onto the platform, some thirty feet in the air. The second girl also flew to the top; then she struggled a bit to climb onto the platform with her friend.
As an onlooker, I stand below, halfway hoping they will chicken out before I have to watch them leap from the platform, aiming for the tiny trapeze dangling nearly out of reach in front of them.
Of course they don't chicken out. As they begin their count to three (one-two-three-jump, is the sequence the course director has drilled them on), I can hear the extra air in the voice of the girl who is afraid. I want to beg them not to jump, but that's not the point of this morning, so instead I hope their belayers know what they are doing, that they got enough sleep last night, that they didn't fight with their wives this morning. I hope the ropes hold and that the kids have put their harnesses on right, and by the time I've gone through this litany of fears, before I even have time to get to the end of The Memorare, my go-to incantation when I'm afraid, these two beautiful children have leapt into the sky and are dangling high above the ground, swaying and laughing in the cool, piney air.
At this point, as the (attentive) belayers gently lower the (safely harnessed) girls to the ground, a line from Kurt Vonnegut starts following me around.
If you've never had a quote follow you around, it's just as you'd imagine it. Really. A little thought bubble pokes its way out of your shoulder and hovers in the air just beyond your left ear, sometimes for weeks, until you finally take those words into your life and figure out why they are haunting you. This one says, Everything was beautiful and nothing hurt.
I realize I'm not going to be able to think my way out of my fears. When I first got married, I remember being a little bit afraid every time my husband left the house; for some reason, he seemed newly fragile. I wanted to follow him into the world each day and see him safely home. At some point, I forgot that fear is something that most people try to overcome; I set a generous place for it at the table. I was grateful to it for keeping my feet on solid ground. I was comfortable with the way it manifested in my stomach, in the shake in my voice, in a coldness in my hands. I even learned to feed it, imagining plane crashes, tunnels caving in, and other disasters on demand. I had decided, as I wrote in a poem, "to try like hell to stay alive."
For a long time I wasn't aware that I had donned a life-jacket, but even now it seems a not completely unreasonable reaction to the world.
The quote bubble hanging by my ear is getting annoying, so I finally pull Slaughterhouse Five off the shelf to refresh my memory. I'm not thrilled when I realize my quote is an epitaph Billy Pilgrim imagines for himself. In the book, it's etched on a picture of a tombstone.
It's not the quote I'd pick to sum up my life today, although I think it describes the world I spent a long time trying to live in.  It's not too far off; I could live with, "It was beautiful and it hurt," or "It was so beautiful that it hurt." Or maybe if I'm writing my epitaph, I should keep the line I wrote one grade school Halloween: "Here lies Heather, under the weather."
That still makes me smile.
There's no rest when the first two girls are safe on the ground. The next pair is already clipped in to their harnesses and starting up the pole.
I'm thinking that maybe you have to let the world toss you around a little. I'm thinking that next time I ride down the bumpy bike trail, I might try to wait a few seconds before I start squeezing the brakes. I'm thinking about that moment just after you run over the edge of the cliff, before you realize you will have to fall. I'm thinking that that's the space, out there for those few seconds in clear air where everything is beautiful, in which we live our lives.
Recently I got an email from an old friend who has been on her own journey out of loss into love. I've known Jacqui since the first day of first grade, and she has been telling me that we should go for a hot air balloon ride when we turn fifty.
I wouldn't want her to read this essay and think I have decided I want to go for that ride. It's fair to say, though, that lately I've been wondering what's out there, just over the edge.