I recently changed my Facebook profile picture to a photo of my house on Christmas Eve, decked out in lights and luminaria. It's a peaceful picture, but it already feels so last year. Soon I'll take the tree down and head back to work for another semester. I was trying to imagine a new photo, and I thought I might take a picture of my piano with a novel (currently Everything is Illuminated—finally!), my laptop, my violin and mandolin, and my running shoes sitting on the bench. If I were just starting my blog today, I think, I might call it "Read-Write-Run-Play." (Or maybe that's in the small print after "Live"—it doesn't quite capture Love and Leave. Or maybe it just means I have too many hobbies, or that I still haven't learned to resist the lure of resolutions. I have long loved Rilke, but I would forget the line "You must change your life" if I could.)
Last night showing a few friends around my house I took them to the deck off the upstairs loft. From where I live on the west mesa, you can see most of Albuquerque stretching below; lights shimmer thickly north and south from downtown to Placitas, east all the way up to Tramway; the tram blinks a solitary light at the crest, and a dark trail runs horizontally through it all, imagining the bosque and the river trickling through the trees.
Vantage points matter. My husband and I have been spending the past few months standing on lots for the second time in our marriage. We are trying to downsize, and we are determined to land on a lot with a view. I don't know why it matters what I can see from my home, but it does. A number of years ago forest fires across the West hid the city and the mountains from my view. For weeks, looking to the northeast, all I could see was gray. It didn't matter that I knew that the mountains were there inside the smoke, that I could imagine their outline and the way the clouds move against them; I found it surprisingly hard to be happy. Where you stand changes what you see.
High up in the wall in my family room, three tall windows loom like living landscape paintings in Hogwarts. Some nights, if you look up at the right time, you'll see a plane fly by. Other times, clouds drift from one window to the next. Sometimes, the moon fills a window like a familiar song or an old memory and grabs my breath as I'm doing the dishes.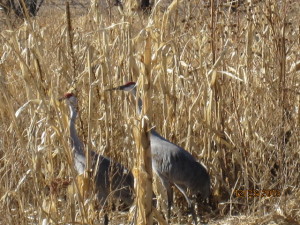 About a week ago I woke up one morning needing to see cranes. I dragged my husband to the open space off Montano Road where I knew we'd find them. Late in the afternoon, I felt them tugging at me again. I pulled on my running shoes and headed back to Los Poblanos and spent about forty-five minutes running on dirt roads and ditch banks while cranes meandered through the fields around me. At one point, two cranes crossed the road no more than five feet in front of me. To my back stood the Sandias, framing the city. Straight ahead to the southwest waited the volcanos. And everywhere, like water, blue sky poured itself out and lapped around me.
I'm mapping my coordinates, I think, imagining what's behind, taking in what's ahead, aware of my breathing and my feet, each step pressing firmly into easy ground. Some magic days the planet presses back, and every step is easy. A plane flies silently overhead, chalking contrails in the sky.
There is something peaceful about watching cranes walk. Their knees bend backwards while their forelegs stretch forward—it's as though every step is past, future, and present at the same time. N. Scott Momaday in The Way to Rainy Mountain describes tortoises as "going nowhere in the plenty of time." I'd like to have written that line. Every spring the cranes fly away from Albuquerque, and late every fall as the light leans away, they come back.
I have no eyes for the small birds when the cranes come. I hear them whistling overhead and notice them thickening the telephone wires, but I don't crane my head to study them; I don't wonder what that flash of yellow moving in the cottonwood might be. Later when I look at the photos I took while I ran, I'll see two cranes edging away from me, one leaning just slightly toward the other, and two girls on horseback in the background. I never knew the girls or the horses were there.
When I drive back over the bridge at dusk, all the water birds are gone from the river. The sky is just starting to turn that dusky mauve pink that will forever be the color of Albuquerque to me. A hot air balloon is deflating in a field to the south just by my school, where so far there isn't a Walmart. The top is open, so I'm looking through the balloon where silhouettes of people seem stamped on the far side.
Mary Oliver, in Winter Hours, writes, "All narrative is metaphor." A few weeks ago, my husband and I stood on a lot to judge the quality of the view. Before we could get back in the car, we had to spend ten minutes picking goatheads from our shoes and pant legs. We decided that wasn't our lot.
The light was something like the light tonight, though, and for some reason I found myself thinking about my neighbor's dog. One night last March our neighbors were out of town and their dog was alone. Late into the night he barked and howled and called. Finally, on a whim, my husband took our golden retriever Rusty next door, let him in the neighbor's gate, and left him there to play. Surprised, distracted, no longer alone in the night, Jax stopped barking. Even after Fred brought our dog back home a half hour later, Jax stayed quiet. Now we do this regularly when the neighbors are away. Just that little bit of contact, someone to run with in the night, drives despair away; sleep comes.
It's the beginning of the year again, and humans are still running laps on a spinning planet. I love that the cranes bend in both directions and hover in the present with each step, but tonight with no moon in the window, I'm thinking more about what happens when they fly. They rise above the world, changing their vantage point. They see the fields fall away, stretch their necks  into clear blue, and watch the world grow small below them. Huge delicate wings agitate the air.
Once in a while, I like to imagine, when the sky is pink and the earth is spinning slowly, they capture a sweet current, lean into it, and soar.
++++++++++++++++++++++++++++++++++++++++++++++++