How does the universe know when you are in a hurry? I'm going to assume it's one of Newton's rarely studied postulates called the Stress-Based Law of Increased Atmospheric Friction.
Or you could just blame it on a design flaw. That's what I'm thinking after my alarm goes off this morning.  I'm reaching to turn it off when I knock my ipad over on the nightstand. Through the predictable physics of the ricochet (is that a thing?) my glasses fly across the dark room, and of course, since we are talking about my glasses and because it's dark, I can't find them. Good morning, design flaw.
I'm in a hurry because I have completely unrealistic expectations for the first sixty minutes of my day today. In order for the  thousand piece jigsaw puzzle that is my life this week to work, I need to start complete this essay and a second piece of writing that is close to being finished, but keeps refusing to give up its truth. Right now that other essay is a beautiful pile of words in search of what it's trying to say.
Not this essay, though! This essay is going to grow like a freeze-dried seahorse from a tiny capsule into a complex, living creature in mere minutes. All I need to do is add water coffee. (Which is ready now–excuse me for a second while I go get a cup.)
This IS NOT an essay about seahorses. In fact it's another essay about how wonderful teenagers are, but I know that you can't tell that yet.
While we all wait for me to get to my point, here is the thing about seahorses. When I wrote that simile about my essay growing like a freeze-dried seahorse, I was thinking about Dudley Do-Right and those crazy things you'd want to order as a kid watching Saturday morning cartoons or reading the backs of cereal boxes.
Help me out, siblings or age-group friends. Does anyone else remember ordering freeze-dried seahorses by mail in the late sixties or early seventies? Pop them in water, and voila, instant seahorse?
It seems unlikely that I could be making this memory up, but when I asked Professor Google just now (and really, I'm in a hurry! Why am I googling seahorses?!) I didn't find a link to a site for goofy seventies novelties, I found real information.
Did you know that there are twenty-five different species of seahorses? That fact is from some website I already clicked away from, and I'm in a hurry, so I can't go back to figure out if I should trust it. I'm sorry if that information isn't true. But really, this isn't an essay about seahorses, so let it go, ok?
Get this. According to National Geographic, seahorses "are monogamous and mate for life." And I know what you are thinking now. You are thinking, what can this possibly have to do with teenagers making five circle Venn diagrams?"
At least, that's what you would be thinking if I had started writing the essay I was planning on writing this morning. That essay is about serious things like fiscal policy and Venn diagrams and compromise. I think you'll like it.
I know we're in a hurry; I'll get to the Venn diagrams in a minute. But did you know that, according to Nat Geo, seahorses,  those amazing creatures that I think I remember buying freeze-dried through the mail "are among the only animal species on Earth in which the male bears the unborn young"?
"Oh, wonder! How many goodly creatures are there here!"
It reminds me of the day I learned about asparagus plates.
Before I start talking about teenagers and  fiscal policy, I'd like to point out that it's not even six a.m. (but it's close–way too close! I'm in a huge hurry this morning!) and I've already written about physics, marine biology, and economics. Well, I haven't really written about economics yet, but that's the subtext. I'm sure a careful reader will be able to tease it out, just as they picked up on that little Shakespeare quote I just slipped in.
I thought someone should notice. A little applause maybe. (Note to self: When I'm in a hurry, I forget to edit out my arrogance.)
Since googling seahorses led me to information about a real species, I decided to google "freeze dried seahorses" instead. That search didn't go so well. In fact, it made me sad. I learned that seahorses are ground into powder for use in Chinese medicine. I learned about an illegal shipment of seahorses that was "seized at the Beijing airport." I skimmed through the comments at seahorse.com  and read this note from a seahorse breeder who said "It is a LOT harder to raise seahorses than to kill them."
And damn if I haven't googled myself into a perfect segway for talking about teenagers.
This fall I fumbled my way into my now-all-time favorite lesson plan. It started about six hundred crises ago when the government was on the brink of shutting down. At this point, I can't remember why. Passing a spending bill, maybe?
I found a nifty little game online called the Fiscal Ship. I'm in a hurry, so I'll just give you a quick overview. You choose three governing goals–things like "protect the elderly" or "fight climate change" or "rein in entitlements" from ten or eleven choices the game gives you.
Then, you play the game by implementing realistic policies to meet your goal while you simultaneously work to "reduce future debt to today's levels." The policies are sorted into seventeen major categories, like education, defense, social security–you get the picture. I'd give you more examples if I wasn't in a hurry.
Each time you choose a policy, you can see the impact on the debt level. It's a nifty game, and it worked great for teaching kids about the sort of choices that politicians make.
John Dewey said:
"…give the pupils something to do, not something to learn; and the doing is of such a nature as to demand thinking; …learning naturally results."
(I'd just like to pause in my rush for a moment to point out that I've now added pedagogy to the list of things I've written about before six a.m.)
I was having so much fun seeing the students struggle with hard choices that I decided to ask them to present their results to the class. Surreptitiously, I took notes on their governing goals as they spoke.
Then, because one of the students said, "This would be so much harder if we had to get other people to agree with us," and I had already been thinking along those lines, I matched them up with other people whose goals were radically different from their own and had them play again.
First, though, I wanted them to reach a thorough understanding of their differences. On a whim, I told them to make a Venn diagram showing the overlap between their ideas. For the record, making a five-circle Venn diagram is no small feat. None of us were even sure it was possible.
Here's what they looked like while they were trying to figure it out (and for the record, they told me I could use these pictures).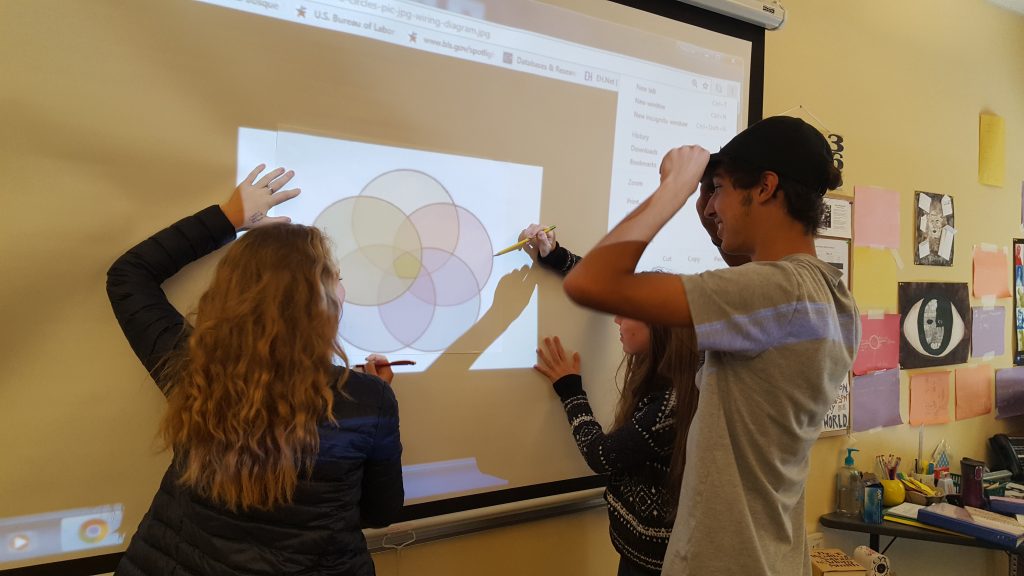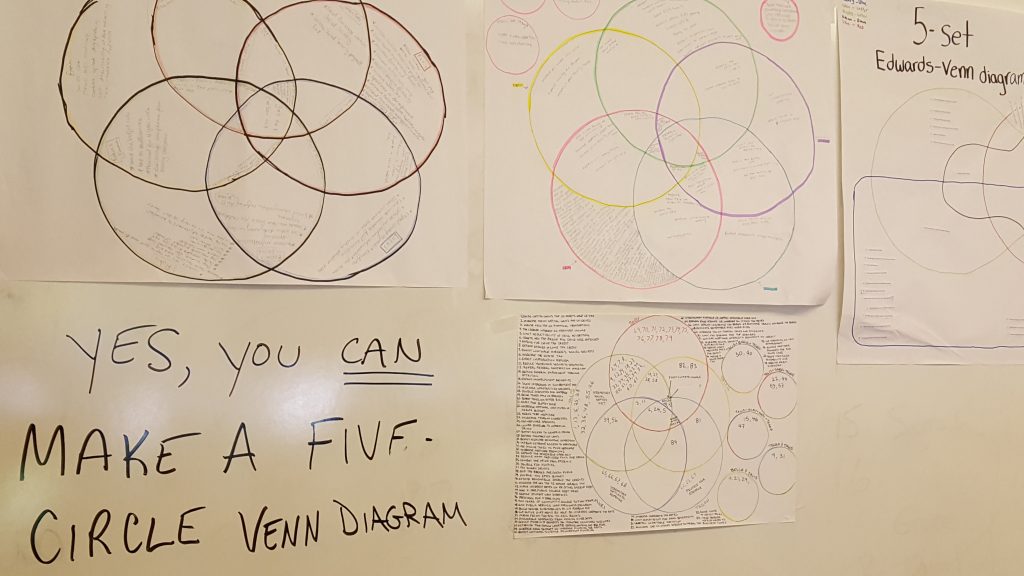 Making a five circle Venn diagram was just hard enough that it took them a really long time to figure out how to do it. By the time they had worked it out, they had a rich understanding of the differences between their goals. (If you didn't know me, you might think I had planned it that way.)
I'm in a hurry, so I'll jump to the punchline. Once the students had clearly identified their differences, they were able to reach agreement on shared goals easily. I was shocked; kids who had chosen "rein in entitlements" quickly found common ground with kids who had chosen "shore up social security" or "decrease inequality."
They played the game, and I listened to them negotiate their differences. I walked around the room hearing them say things like, "We all agree on the carbon tax, so that will give us enough money to pay for pre-K education for all. Can everyone live with that?"
The point is, they made it look easy. If you want to believe there is hope for the world, ask a teenager to solve a problem.
Finally, because one of the skills we've been working on is developing  models, and because I was so impressed with their work, I asked them to develop a model for how to reach a compromise. Again, piece of cake for these kids.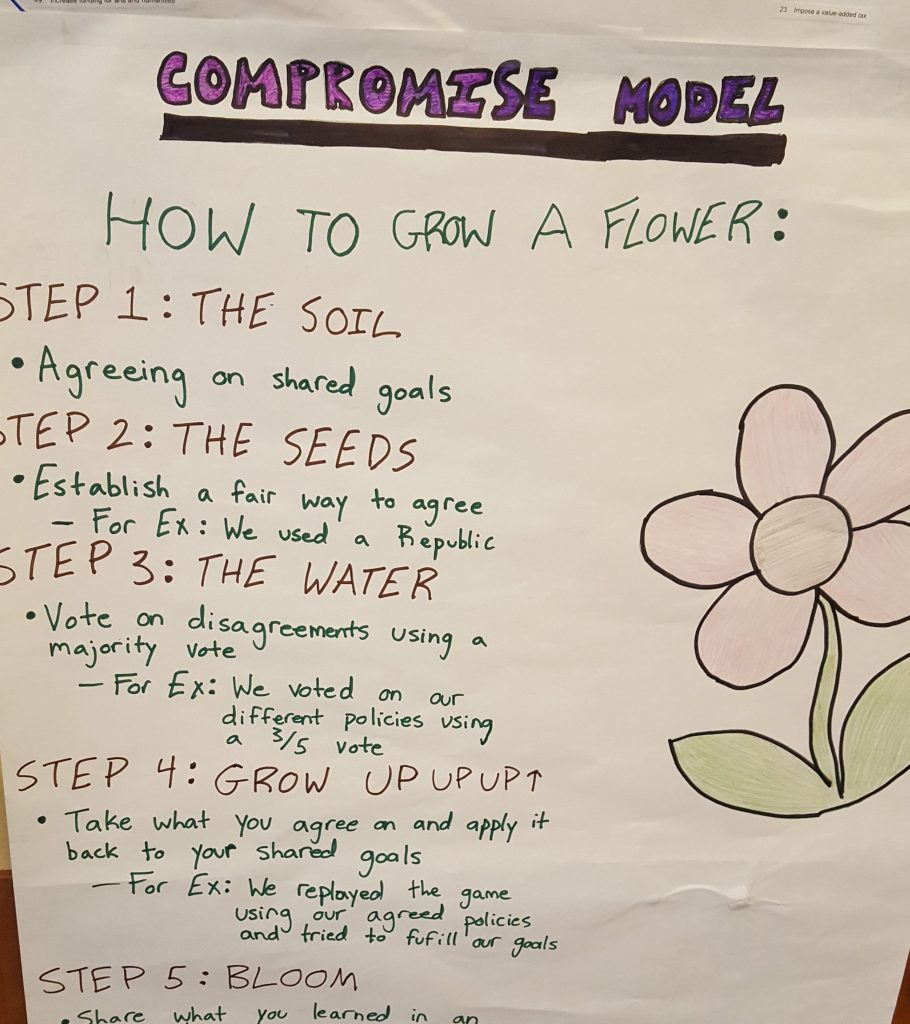 One group based their model on a recipe. They combined five tablespoons of ideas with a "pinch of open ears and hearts." Another group drew a flower. That model included taking the areas you agreed on and applying them back to your shared goals. Others created simple, step-by-step flow charts.
None of them failed. Every group was able to agree on policy choices that met their shared goals and kept the deficit in check. Not only that, they kept their friendships intact, too. No one called each other names or stormed off or took their crayons and went home.
The other thing none of them did was to decide that the problem was insoluble. A good Venn diagram  "shows all possible logical relations between a finite collection of different sets." When the students played the game individually, they chose as many as thirty policies each. Showing all of the possible logical relationships between their sets was a massive undertaking.
That fact didn't stop them. Even when they weren't certain they could solve the entire problem, they kept doing what they could.
I'm in a hurry this morning, so I'll leave it to you to wrap things up. There are some things we can all learn from teenagers like the ones I'm lucky enough to spend my days with.
Maybe someday they'll even save the seahorses.